Golf on Vancouver Island – Golf Packages Victoria
The golf on Vancouver Island isn't mentioned with other travel destinations but the courses are still very good and priced extremely well which provides a lot of value. If you've never been here and are looking for golf packages Victoria or even if you have, I wanted to create a list of the top courses you can play (I've left out the private courses) to give you some assistance when choosing where to tee it and also to create some conversation.
Here is my list on the top courses on The Rock!
Highland Pacific
Starting in my hometown of Victoria we have the newest course, Highland Pacific. Usually when courses are new they take a few years to mature and playing conditions can be less than ideal. This isn't the case at here as the greens and fairways are very receptive, lush and dry.
Overall the course plays very fair and you will not be met with tee shots that make you feel confined. Many courses in this area of the world tend to have a lot of tree lined fairways but not Highland Pacific. What's also great about the course is that you will not see a single house which makes the walk or ride very pleasant and peaceful. Being located only a few minutes from downtown, the property offers spectacular views of the city and Olympic Mountains.
Bear Mountain – Mountain Course
Speaking of views, you may not see a better one on a course in your life when you reach the 14th green on the Mountain Course at Bear Mountain. It's the only course designed by Jack Nicklaus on the Island and provides the toughest challenge if you've never played it. I will say that it's an intimidating challenge off the tee but if you keep your eyes on the fairway and where you want to hit it, the course plays much easier.
A word of caution though is to avoid the bunkers at all costs. Jack's signature deep bunkers are spread throughout the course but you won't find them if you hit it straight! The course also offers an Island green which is similar in distance to the famed 17th hole at TPC Sawgrass. Just be sure to bring an extra ball or two!
Cordova Bay
Cordova Bay is located in a quaint area of greater Victoria and gives the feel like you are miles away from the downtown area. The course plays very much like resort courses in Palm Springs. Off the tee it's very forgiving and the greens are large but very flat making it easier to make putts and read greens.
One thing if for sure, you won't play a better conditioned course on the Island. In 2010 Superintendent Dean Piller won the Canadian Golf Superintendent's Association Superintendent of the year award.
Gorge Vale
Gorge Vale is the course located closest in Victoria which you can play. The original design was laid out by A.V. Macan whose work is prominent all over the Pacific Northwest.
In 2000 the club decided to change and few things and called in Les Furber to re-design all but two of the courses greens and change the routing of the front nine. What's left are standard Furber designed greens which make it challenging for the holes whose greens sit above the fairway.
Much like the other courses, you will not feel confided by trees despite the fact the Gorge has many large trees. Macan did a wonderful job in leaving players with a enough room throughout the course so they felt comfortable off the tee.
Morningstar
Morningstar was my home course while living in Qualicum and well deserves to be on this list. After all, it was host to the Canadian Tour's Spring Qualifying tournament as well as it's own event for three years during the mid 1990's.
After the first two holes which play very wide open from tee to green, you will work your way into the trees for a challenge in accuracy. The next seven holes play in amongst the trees and don't give you much room of the tee but if you focus on where you are supposed to hit the ball (the fairway) you will be able to swing freely.
The back nine plays much the same until you reach the finishing holes which give you some breathing room. Wind can be strong at the Star but only on the holes where you are in the open.
Pheasant Glen
Another course that I had the chance to play as a junior was Pheasant Glen. When it originally opened it was a par 67 but since then they've expanded the course to play as a par 72. They want to be known as a challenging course and this is evidence by the fact that they have played host to different British Columbia Golf Association (BCGA) championships.
The thing I enjoy most about the course is there are no houses and the two nines play very different. A vast open front nine greets players which is a great warm up for the back nine which plays in the trees.
With that said, the back nine offers wide playing corridors and large forgiving greens. The final three holes are sure to challenge your game however. BCGA Executive Director Kris Johansson called the final three holes the "toughest in British Columbia". By the time you reach them, you should be plenty warmed up and ready for the challenge.
Glacier Greens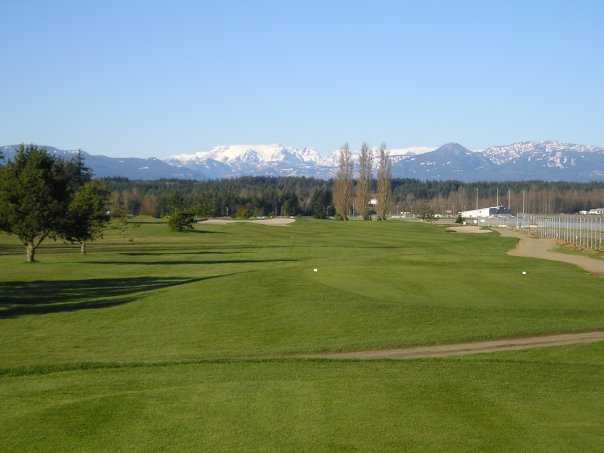 Located in Comox, Glacier Greens might be the least talked about course on this rock. It offers a variety of tree lined holes which require precise tee shots and wide open holes where you can swing away freely. The course conditions are always superb and it always provides fantastic value for its players.
One on the coolest features of the course isn't actually on the course! Comox airport is located right alongside the 6th fairway which is an awesome and challenging par 5. It's even more challenging when the Canadian Air Force fighter jets can be seen and heard taking off for training missions. Regardless of how loud they are you will never get a better seat to see such raw force and power.
Crown Isle
Just down the road from Glacier Greens is Crown Isle. Having played the course near 50 times I will say that I never get sick of playing it. When it first opened I can remember making lots of trips north from Qualicum with my dad and friends to go play it.
The course is extremely forgiving off the tee and even though houses are abundant along the fairways, rarely do they come into play. After reaching the fairways you will be met with large greens that can be tricky to putt depending on where the pin is located. Every level of player will find enough options for tee boxes to play based on their skill level.
Storey Creek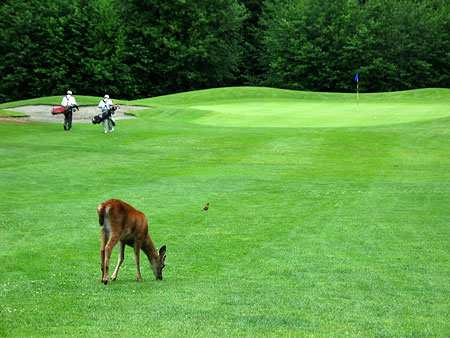 No other course exemplifies Pacific Northwest and Island golf like Storey Creek. The course plays throughout nature and is rare in the fact that you never see another hole while playing your current hole.
In my own opinion this is Les Furber's best course and the owners have not gone the route of most courses by selling the land beside the course to develop houses. Everyone including myself loves the course for its walk through nature and fair challenge.
So who am I?
I am extremely proud to say that I am an "Island Boy"! I was born in Nanaimo and lived the first 18 years of my life in Qualicum Beach. After graduating high cchool my family decided it was time for a change so we moved to the big city and the capital of British Columbia, Victoria.
Now since I have been playing this game for over 20 years, I can say with full confidence that I am an expert when it comes to Golf on Vancouver Island. With this is mind I thought it would be nice to create a list of the top courses on the Island for those of you looking for golf packages Victoria.
You might be thinking "Why should I listen to this guy".
To begin with I am a certified Canadian Professional Golf Association member who loves this game and spends plenty of time researching course architecture. When playing and reviewing courses I put myself in the shoes of all types of players. Most players tend to review a course from their own perspective but this is of no use to you.
Secondly, I've played every 18 hole course and even a few of the fantastic nine hole courses we offer. This ensures that this list has been selected by visiting and playing all there is.
As I mentioned at the beginning I wanted to create this list to assist those of you who have never been here and wanted to know more about Golf on Vancouver Island. I also wanted to generate some discussion and get some opinions. How would you rank the courses? Is there are course I didn't list that should be on here or is there a course that shouldn't be listed? Agree or disagree let me know!
Thanks for reading and I hope I have shed some light on the courses on this beautiful rock!
Jordan J. Caron
Jordan J. Caron is a former Canadian PGA Class A member who still wants to help golfers shoot better scores. He is also the President of Meaningful Marketing. In his downtime he likes to read, play squash and drink wine.